Unveil your creative instinct using our wood carving drill bits and create flawless and eye-catching designs.
No matter what kind of DIY project you are working on, the drill bits are the perfect solution for you.
Whether you want to crave, engrave, sand, grind, or cut, the wood carving drill bits are always on your side and enable you to craft with pinpoint precision.
The wood carving drill bit is made of excellent quality steel for use on wood.
A perfect item to try or present to any DIY lover.
Features:
Multiple Pieces Engraving set
90° V groove 3 flute
15° Detail carving liner
flat tip
USA Veteran Owned
Why Should You Purchase Our Wood Carving Drill Bits?
Simple to Use: Try our engraving bits and express your hidden creativity to everyone. Using these wood carving drill bits, you can shape, carve, engrave and cut any wood or soft material swiftly.
Multi-purpose Item: The wooden carving bits work exquisitely fine for perfect material removal in various kinds of applications like craving, grooving, and free-hand routing.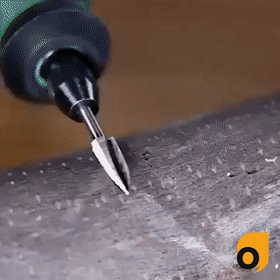 Perfect Item to Gift: Our remarkable item is a splendid choice to give to your DIY lover, friend, or family member.