Now, you don't need to wait for hours to get a chilled refreshing drink of your desire when you can instantly freeze and use reusable ice cubes.
Our Refreezable ice cubes can easily be reused. These ice cubes are washable; you can pop them back into your freezer for a refill.
The reusable ice cubes make your drinks refreshing and turn your ice coffee brighter and your summer cocktails cooler in no time.
The pack of fruit shaped refreezable ice cubes includes different shapes and colors that allow you to mix and match your drinks the best.
Our refreshing ice cubes can be used anytime, which saves you from refilling the ice cube trays again and again with water. You can instantly place them right after finishing your drink in the freezer for future use.
Features:
Entirely reusable ice cubes
Extremely low price
Available in different colors
Perfect item for cocktails and cool bags
Safe and environmentally material
Pre-filled with water
Instant cooling of drinks
Why Should You Try Our Reusable Ice Cubes?
🍹Perfect for All Beverages
No matter what beverage you consider, these chilling ice cubes are essential to make your drinks refreshing. Our reusable ice cubes are excellent for chilling water, lemonade, and various other soft drinks. Try these cubes to chill your cocktails with the full flavor.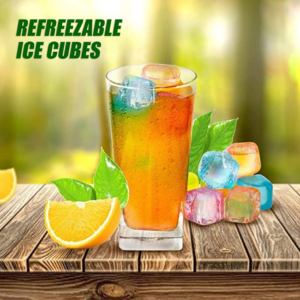 ♻️Convenient & Reusable
The Refreezable ice cubes are simple to use and fast to freeze. These plastic cubes are safe to use for your health and convenient to reuse. The reusable ice cubes won't ruin the taste of the drink.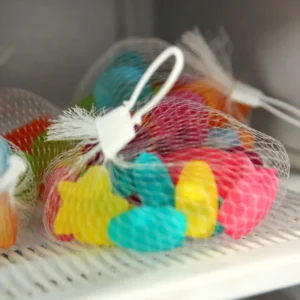 🧊Instant cooling of beverages
The reusable ice cubes are used for instant cooling of drinks. No more dilution of drinks now. Try our refreezable icecubes that have water inside.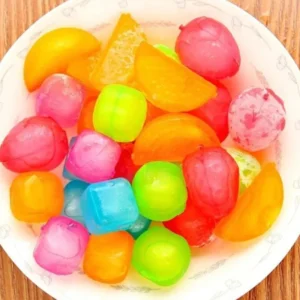 FAQ's
1.How to use reusable ice cubes?
Place the reusable ice cubes in the freezer for at least four hours to cool. You can also store them in the freezer so you can use them quickly for an evening drink. Then place the pre-chilled reusable ice cubes into your glass.
2. Are reusable ice cubes good for you?
Reusable ice cubes are a good substitute for regular ice cubes. They do not cause any contamination of the drinks because they are made of 100% environmentally safe materials. They give the benefit of cooling down the drinks without diluting the flavor which cannot be acquired by regular ice cubes.
3. Do reusable ice cubes melt?
Reusable ice cubes are small blocks filled with distilled water. The blocks do not melt like regular cubes. They only help in cooling the temperature of the drinks. The fluid inside melts down, but you can refreeze it whenever you want.
4. Are reusable ice cubes good for the environment?
Reusable ice cubes are an eco-friendly and economical alternative to regular ice cubes. They can be used over and over again and saves you money.
5. How long does it take for reusable ice cubes to freeze?
Reusable ice cubes take 3-4 hours to freeze in a home freezer.
6. Are reusable ice cubes safe?
Yes, all reusable ice cubes are safe to use. It can only cause problems if swallowed because silica gel is a common ingredient in reusable ice cubes that can cause throat irritation.