Convert your simple tub into a mini washing machine with our super useful mini portable ultrasonic washing machine for easy washing and you will feel relaxed.
Get rid of washing socks, underwear, children clothes and napkins with your hands and buy this mini washing machine.
The mini washing machine is ideal for individuals who are in quest of an affordable way to do laundry. Our premium quality item is perfect that allows people to wash their clothes without taking assistance from anyone.
This washing machine has a mini size that makes it no uphill task for anyone to carry it while traveling. You can carry it in your traveling bag easily and wash clothes anywhere without facing any ambiguities.
This amazing mini portable washing machine is certainly a must have item for everyone.
Features:
Suitable for light clothes
Convenient to use and store
Economical Price
low power consumption
Suitable for camping, apartment, and dormitory
Why Should You Purchase this Portable Ultrasonic Washing Machine?
Quality Material: The portable washing machine is made with premium quality, eco-friendly material. The machine is entirely safe to use, non-toxic and easily portable.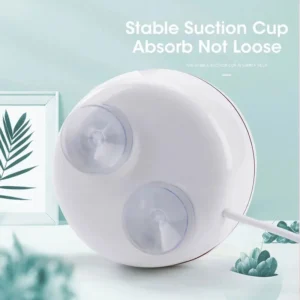 No Voice: The machine supports high-frequency ultrasonic cavitation, that allows forward and reverse cleaning. The best part is that the portable ultrasonic washing machine has a low noise design that never disturb your sleep.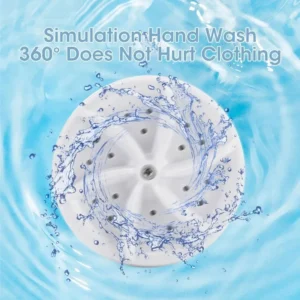 Ultrasonic Cleaning: Mini washing machine accelerates the emulsification of liquids and stains to attain the purpose of cleaning. This product is immensely suitable for washing the mask and easily sterilizing and disinfecting.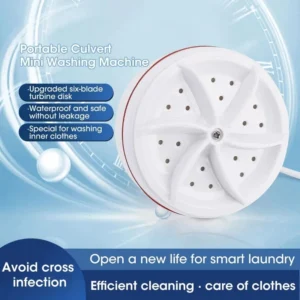 Simple to Use: Our mini portable ultrasonic washing machine uses a USB power supply. Once the machine runs for half an hour, it will shut down automatically and restart the USB plug after one minute.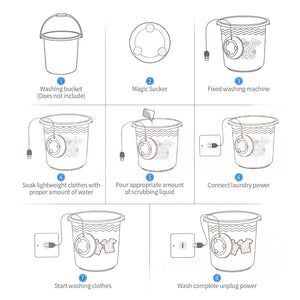 USB Powered: This portable washing machine powered by USB cable which enables you to port it anywhere you desire. Any washbasin, hand washing station can easily be used to wash clothes.